Home » Anime Reviews
H2O episode 4
Welcome to episode 4 of H2O where Takuma is surrounded around by 4 (at least I thought it was 4 until the end) beautiful girls at the beach. What was interesting, though, was that Hamaji is actually a guy @[email protected] (yep, that's right, we actually have a male character that looks and acts like a female. What series reminds you of that?).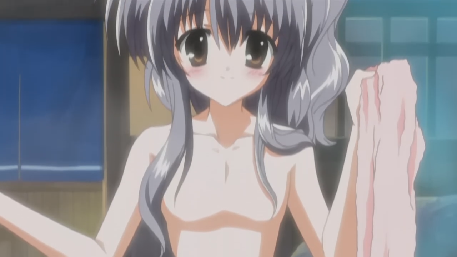 Moving on, in episode 3 you see Hinata forces a kiss on Takuma at the end, which is then continued in episode 4 where Hinata sees Hayami at the end of the bridge and to spite her some more, Kagura then hugs Takuma passionately. Of course Takuma is all confused about his feelings even more because of the events (plus he never even realized that Hayami was standing at the other end of the bridge because his back was facing her).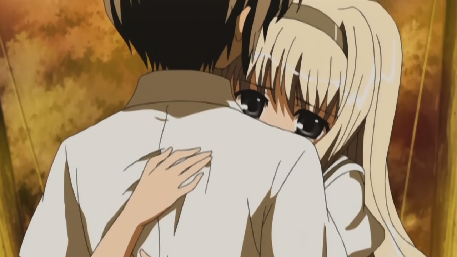 After the opening theme, it starts with with a girl name Yuki (who is Ma-chan's sister) getting off a bus and noticed Ma-chan hanging around Takuma (along with the other girls…) and, of course, she starts getting pissed off thinking that Takuma is flirting with Ma-chan (can someone say, a misunderstanding?)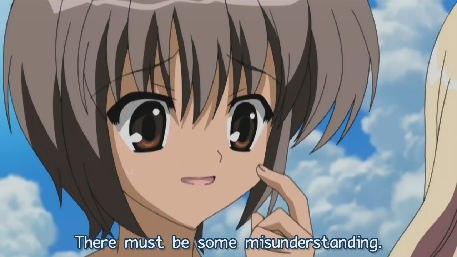 Yuki then joins the gang is tried to get ride of Takuma anyway possible. She then noticed how Hinata is always around Takuma and decided to use that for her advantage. Yuki told Takuma that Hinata wanted to speak to him privately and told him where to meet her, but, of course, she won't show up because it was all just a lie anyways.
After awhile since he's been gone, the girls started looking for him. Hinata remembered seeing Yuki talking to Takuma before he disappeared and started asking her question, which she refused to answered then ran away.
Back to where Takuma is located, he's been pretty much laying on a rock waiting for Hinata (who won't show up) but now that rock is being flooded by water due to the tide that's coming in and he doesn't even know how to swim.
You then see Yuki swimming in the ocean thinking about Ma-chan when her leg cramped up and started to drown. Takuma sees her and hesitated for a bit but then jumped in to save her, dispirit the fact that he doesn't know how to swim. Of course, Takuma was in worst shape then Yuki when they were pulled out of the water and thanks to Ma-chan's CPR, Takuma was able to survive.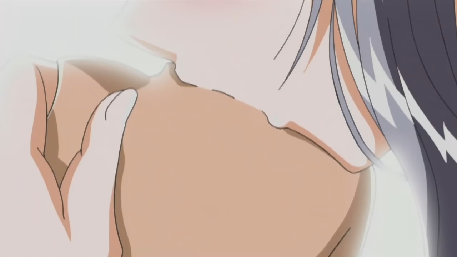 Coming down to the end, you see Hayami swimming in the ocean. Takuma noticed her and calls out to her, but she stops him and ask about his feelings. At the same time, Hinata showed up and is now a three way… Who will Takuma choose? We'll find out in episode 5.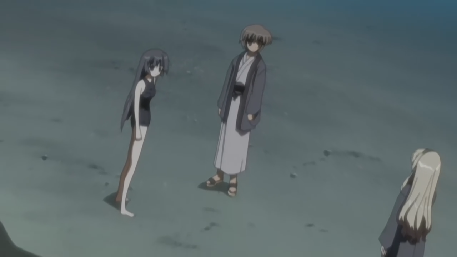 No related links found
Tags: Anime Reviews, Cute, Epsiode 4, H2O, Reviews